at the ARBER Hohenzollern ski stadium at the lake Großer Arbersee in the week from 04 to 09 January 2021

Get close to world-class biathletes at the IBU Cup Biathlon ARBER.
See biathlon stars of tomorrow competing and be part of a true winter-highlight in the ARBERLAND BAVARIAN FOREST.

Young biathletes compete at the ARBER Hohenzollern Ski Stadium from 04 to 10 January 2021 and fight to be promoted to the World Cup.
Top athletes in the ARBERLAND Bavarian Forest. Be a part of it!
Buy your Tickets – IBU Cup Biathlon
Advance ticket sale for the IBU Cup Biathlon 2021 at the Hohenzollern Ski Stadium.
The IBU Biathlon Cup ARBER takes place from 04th to 10th January 2021.
Have a look at the schedule when which competition and the award ceremony  take  place.
With immediate effect the following tickets for the IBU CUP BIATHLON ARBER are available: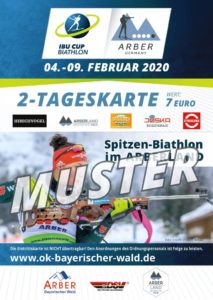 Day ticket for one competition –  € per person
combined ticket –  € per person
Admission tickets can be purchased:
online www.arberland-shop.de, by calling our free hotline Tel. 0800 272375263
or directly at the entrance on the day the competition takes place.
The entrance to the official training is free.
Timetable
How to get to the stadium – Stadium plan
Click "Getting there" to get a close description of how to get to the ARBER Hohenzollern Skistadion. Here you can find more information and a detailed map.

The organization of the competition is under the responsibility of the OK Bavarian Forest. For further information visit www.ok-bayerischer-wald.de

Contact:
Tel. +49 (0) 9921 9605-3131
Fax: +49 (0) 9921 9605-101
E-Mail: info@ok-bayerischer-wald.de